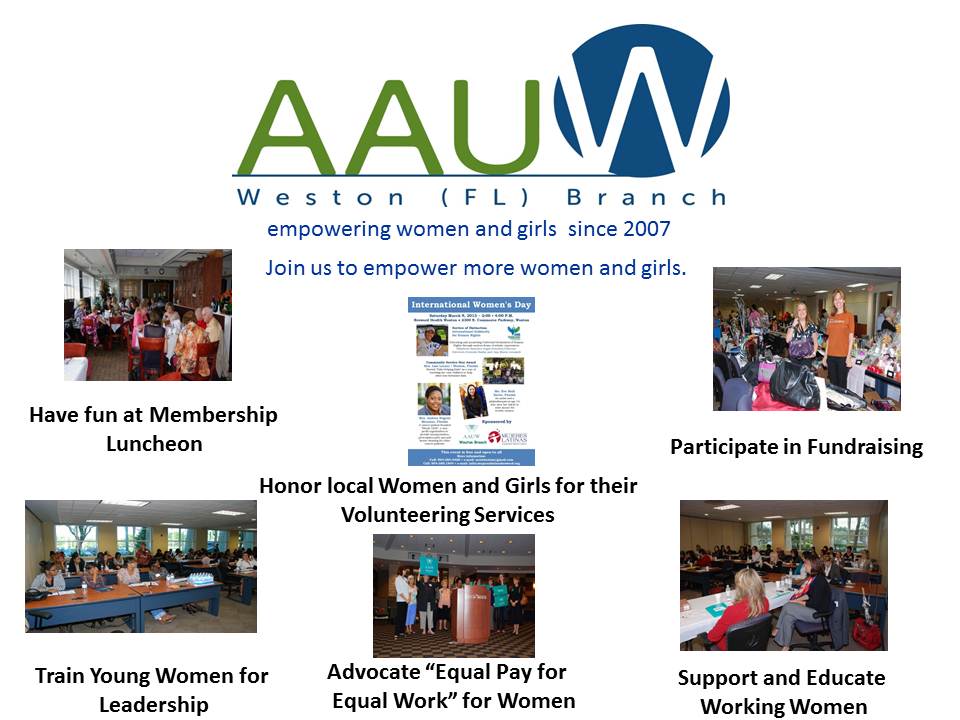 AAUW Weston membership for 2019- 2020 includes members from the cities of Aventura, Davie,  Pembroke Pines, Plantation, Sunrise,  Tamarac and Weston.
AAUW Weston welcomes you to join us as a member or friend. Click here for the Membership Application or apply online!
View the photo collage of Miss Representation workshop for high school girls.
Members and Supporters:
Alvarez, Leslie
Anandam, Kamala Dr.
Babitz, Pat
Bartholf Harries, Heather
Bartleman, Robin
Bennett, Betsy
Bettini, Ruth
Bradley, Patricia
Brown, Annette
Brown, Margaret
Chermak, Shelley
Donnelly, Cathy
Dunn, Melissa
Ferriera, Vira
Feuer, Toby
Foster, Heather
Garcia, Ines
Garver, Elayne T.
Grant, Zienisha
Gershoni, Marcie
Gundersen, Andrea
Henriksson, Mercedes
Heyaime, Nayibe
Jaffe, Beth
Koenig, Cynthia
Koenig, Rochelle
Kupferberg, Marcia
Levinson, Laurie Rich
Levy, Arlene
Lynn, Patti
Macfie, Mary
Mairs, Donna
Reinstein, Fran
Rich, Nan
Robaina, Judy
Rodenberg, Joyce
Schnitzius, Kim
Siegendorf, Michael
Smoley, Renee
Staple, Roseann
Stark, Debbi
Tillman, Lana